All political institutions are manifestations and materializations of power; they petrify and decay as soon as the living power of the people ceases to uphold them.

"Crises of the Republic: Lying in Politics; Civil Disobedience; On Violence; Thoughts on Politics and Revolution" (1972)
(click thumbnail to load video)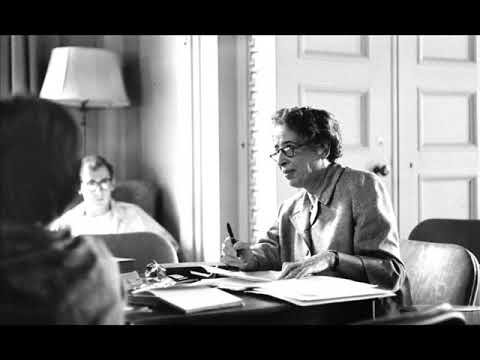 To them, violence, power, cruelty, were the supreme capacities of men who had definitely lost their place in the universe and were much too proud to long for a power theory that would safely bring them back and reintegrate them into the world. They were satisfied with blind partisanship in anything that respectable society had banned, regardless of theory or content, and they elevated cruelty to a major virtue because it contradicted society's humanitarian and liberal hypocrisy.

"The Origins of Totalitarianism"
I cannot accept your canon that we are to judge Pope and King unlike other men, with a favourable presumption that they did no wrong. If there is any presumption it is the other way against holders of power, increasing as the power increases. Historic responsibility [that is, the later judgment of historians] has to make up for the want of legal responsibility [that is, legal consequences during the rulers' lifetimes]. Power tends to corrupt and absolute power corrupts absolutely. Great men are almost always bad men, even when they exercise influence and not authority: still more when you superadd the tendency or the certainty of corruption by authority. There is no worse heresy than that the office sanctifies the holder of it. That is the point at which . . . the end learns to justify the means. You would hang a man of no position, . . . but if what one hears is true, then Elizabeth asked the gaoler to murder Mary, and William III ordered his Scots minister to extirpate a clan. Here are the greater names coupled with the greater crimes. You would spare these criminals, for some mysterious reason. I would hang them, higher than Haman, for reasons of quite obvious justice; still more, still higher, for the sake of historical science....
Power, like fire, can warm or burn. Thousands of years before we vowed "Never again," God commanded us: "Never, ever."
As usurpation is the exercise of power which another hath a right to, so tyranny is the exercise of power beyond right, which nobody can have a right to; and this is making use of the power any one has in his hands, not for the good of those who are under it, but for his own private, separate advantage. When the governor, however entitled, makes not the law, but his will, the rule, and his commands and actions are not directed to the preservation of the properties of his people, but the satisfaction of his own ambition, revenge, covetousness, or any other irregular passion.

Second Treatise on Government
So, never be afraid. Never be afraid to raise your voice for honesty and truth and compassion, against injustice and lying and greed. If you, not just you in this room tonight, but in all the thousands of other rooms like this one about the world today and tomorrow and next week, will do this, not as a class or classes, but as individuals, men and women, you will change the earth; in one generation all the Napoleons and Hitlers and Caesars and Mussolinis and Stalins and all the other tyrants who want power and aggrandizement, and the simple politicians and time-servers who themselves are merely baffled or ignorant or afraid, who have used, or are using, or hope to use, man's fear and greed for man's enslavement, will have vanished from the face of it.

address to the the graduating class at University High School, Oxford, Mississippi on May 28, 1951
He watched on. Now that he had changed sides to the SS, he admired the strength of Fritz and the police man even more. He finally had left the camp of those who were wretched enough to let themselves be bludgeoned like that. He was glad to have made his choice. He did no longer have to fear the suspicion of the masters. He was on the side of good. The beatings the men received hardened his consciousness to embody good. One cannot receive beatings and be right, one cannot be dirty, eat garbage and be right.
[Bradley Manning] ought to be regarded as a hero... Like the trade agreement, the public has a right to know what's being done to them by their so-called elected representatives, but there's a principle that he's violating, namely that power has to be protected from scrutiny... that's the principle of every dictatorship... you can hear it from the high priests of government. Bradley Manning is violating that.