Google's answer is, wake up, grandpa, this is the new normal. But all they're doing is trying to port a bug in the Internet over to the real world, and calling it progress.

You can dress up a bug and call it a feature. You can also put dog crap in the freezer and call it ice cream. But people can taste the difference.
Progress materializes despite and in contradistinction to the herd-like human spirit – not because of it.
The idea of progress as a straight line is self-serving bullshit. If anything, it's like a tree that goes into all sorts of directions from any given starting point; sure, we made progress along a certain route of branches, but that's pretty much all we know. We have no idea where other branches would have taken us, or wether we might be going in circles in some way. What we are doing and becoming isn't automatically the best we could be doing or becoming just because we are doing or becoming it. I'd even say that seems very unlikely, giving the average shallowness and cowardice of people.. where some see progress, I see a consolation prize enabled by Stockholm Syndrome and lack of intellectual honesty.
Believing in progress does not mean believing that any progress has yet been made.

The Third Notebook, December 4, 1917
You cannot hope to build a better world without improving the individuals. To that end each of us must work for his own improvement, and at the same time share a general responsibility for all humanity, our particular duty being to aid those to whom we think we can be most useful.
The world gets improved in fits and starts, in small ways more than in large ones, and thanks to the unseen, unthought infrastructures that undergird it more than the civic or scientific or artistic victories we celebrate in the streets or in the theaters.
Ah, yeah. We're gonna go to Mars. And then of course we're gonna colonize deep space. With our microwave hot dogs and plastic vomit, fake dog shit and cinnamon dental floss, lemon-scented toilet paper and sneakers with lights in the heels. And all these other impressive things we've done down here. But let me ask you this: what are we gonna tell the intergalactic council of ministers the first time one of our teenage mothers throws their newborn baby into a dumpster? How are we gonna explain that to the space people? How are we gonna let them know that our ambassador was only late for the meeting because his breakfast was cold and he had to spend half an hour punching his wife around the kitchen? And what are they gonna think when they find out, its just a local custom, that over 80 million women in the Third world have had their clitorises forcibly removed in order to reduce their sexual pleasure so they won't cheat on their husbands? Can't you just sense how eager the rest of the universe is for us to show up?

"Complaints and Grievances"
http://www.pouet.net/prod.php?which=25764
(click thumbnail to load video)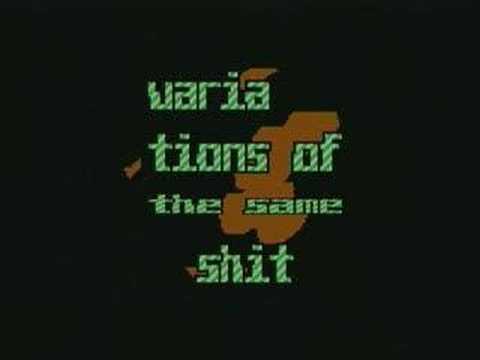 Where could we be now if we hadn't repressed half of our society throughout our entire history?
Progress is not a straight line. Imagine a tree, and every branch is a decision which leads to other possible decisions. Even if you were forced to "move forward", ending up in a particular spot is still not a foregone conclusion; "progress is inevitable" is just a lame excuse for the bad decisions we make, and the hot water it ends us, others, and those who come after us in.